Todays award...
for the stupidest parents on the planet goes to Anette and Landon Pharris. These are the dipshits that hired a stripper for their 16 yr old son's birthday and got arrested for it after taking the pictures of their monumental error in judgement to a local Walgreens to get them developed. You can read all about it here. Below is a photo of the stripper (left) and the birthday girl boy, Landon Pharris, Jr.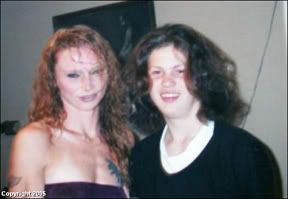 I know this is old news but these morons were just on Oprah* today and I was astounded that people this dumb are allowed to live outside group homes, let alone procreate.
*Yes, I sometimes watch Oprah. Shut up. She
does not
suck. Wait...let me clarify that Oprah doesn't suck unless she's kissing celebrity ass. I hate when she does that and she does it a lot lately which is why I only
sometimes
watch it. I also have to make sure that my 5 yr old is off doing something else since the topics, like the one referenced above, are totally not kid-friendly.